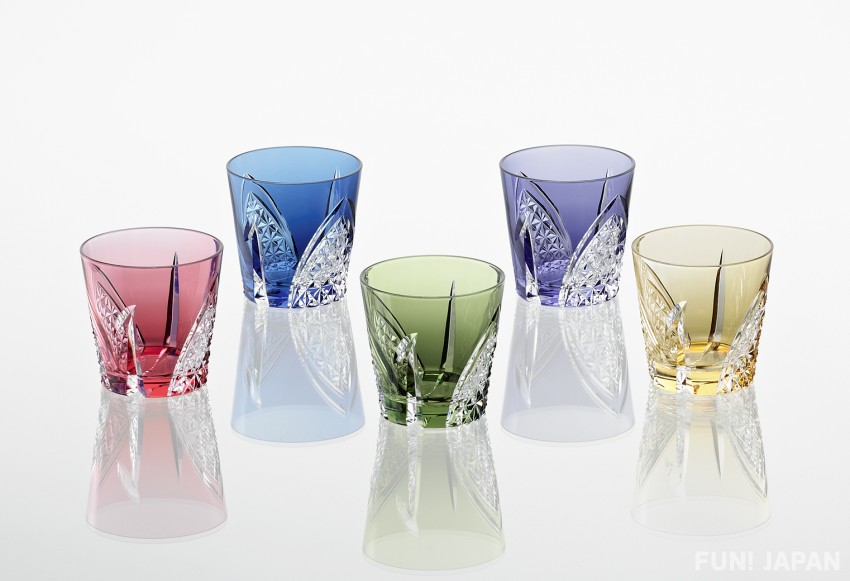 A unique item born of a combination of the west's traditional crystal glass and Japan's traditional facets. This is a set of 5 individually colored glasses with an origami "paper crane" depicted. The traditional Edo Kiriko faceted glass has been put within the cranes expanding wings, creating a beautifully elegant design. Created by master artisans using carefully selected materials, they have a refined design and hold a high level of transparency, with their most characteristic feature being their tone and shine. These Japanese-made glasses, with their Japanese design, can be used in your home, but are also perfect as a gift for friends or family.
FUN! JAPAN EDITORS' VIEW
Shows an amazingly beautiful and traditional origami crane!
Great for celebrations as well as for times when you want to use something a little more elegant than a normal glass at home.
A brand that holds over 86 years of trustworthy history.
Expressing Japan's Traditional Origami Paper Crane through Edo Kiriko Facets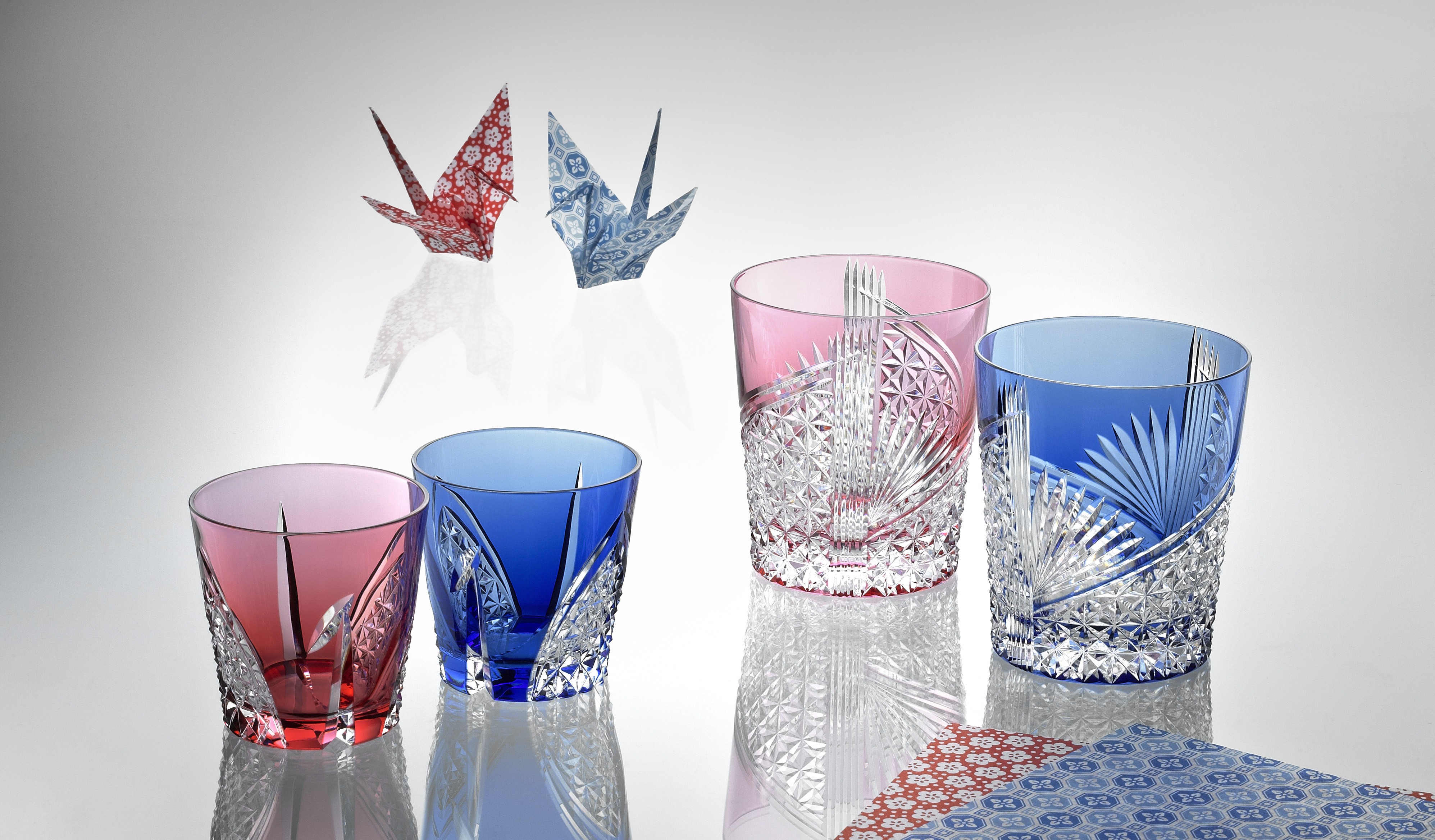 "Kiriko" is the act of using various whetstones and grindstones to cut detailed and accurate patterns into an object. Edo Kiriko was a method of this which began in the latter half of the Edo Period of Japan around 1834 and gained so much popularity so quick that whenever you would talk about handicraft glasses, the first thing that would come to mind was the cut class (kiriko) method, this method continues to be used today for tableware and as gifts due to it's continued popularity. These glasses are 5 individually colored glasses that use the Edo Kiriko cutting method to depict an origami paper crane. The Edo Kiriko cutting method has been used in the space between the crane's expanding wings giving an elegant and refined design. The glasses are put into a paulownia box making it perfect for gifts.

KAGAMI - The First High-Grade Crystal Maker in Japan with 86 Years of History
It would not be an overstatement to say that the level of technical prowess that has been fostered since KAGAMI was founded completely envelops "Japanese tradition and innovation." With their amazing attention to detail and expressiveness. They have even made products for the Imperial Household Agency, the Ministry of Foreign Affairs​, the prime minister's official residence​ and the embassies of many different countries around the world. With their glamorous finish, deep transparency, high refractive index, and comfortable weight, there is simply no comparison. Their ability to design and create these products with a multi-color tone is just another reason that they are stated to be the highest of class in the industry.

"FEEL JAPAN" with KAGAMI Glasses
After receiving the silver prize in the 1937 International Exposition of Modern Industrial and Decorative Arts​, an honorary award​ at the 1939 New York World's Fair and a prize at the Bureau International des Expositions Grand Prix, their results throughout history speak for themselves towards the quality and craftsmanship put into these products. These crystal products, created by artisans that are a master of their craft, have even been recognized by Japan's Imperial Household Agency​ and loved by many.
"Putting our heart into every KAGAMI product that we deliver to our customers. By KAGAMI"
Specifications
Size:Radius 66mm x Height 67mm / 120cc
Contents:5 Glasses
Material:Crystal Glass
Other:Wooden Box
Made in Japan
Made by KAGAMI CRYSTAL Co., Ltd.
*Timing and amount of production lots may vary by product. Final product may differ partially in design from what is shown.

*Since all products are handmade, products may vary and have some differences from what is shown. All products are made new and are unused, but please understand before placing an order.
* Delays to shipping times may occur depending on the order status, the supply of materials, manufacturing process, etc.
* Depending on the monitor settings, the colors actual products may appear differently.
*After a product arrives, returns and refunds will only be accepted if the product is defective upon arrival.
*If the number of orders is much more than the prediction, delivery may be delayed, or the orders exceeded may be cancelled.
Estimated delivery date
We will ship items by the sequential order from the end of the month following the month of purchase.
However, if there are many orders, additional production will be required and shipping may be delayed.
What is the response time for inquiries?
We accept inquiries by e-mail 24 hours a day, 365 days a year, but we will respond within business days (10 to 17 o'clock on weekdays in Japan time). In the case of no-business days such as weekends, holidays, etc., it will be handled on the next business day. Thank you for your understanding.
Don't show this to my mum... shhhhhh
She might get 3 sets of this item! haha!!