Wooden Cup - Cup AKA SWING Kurourushi 1113-09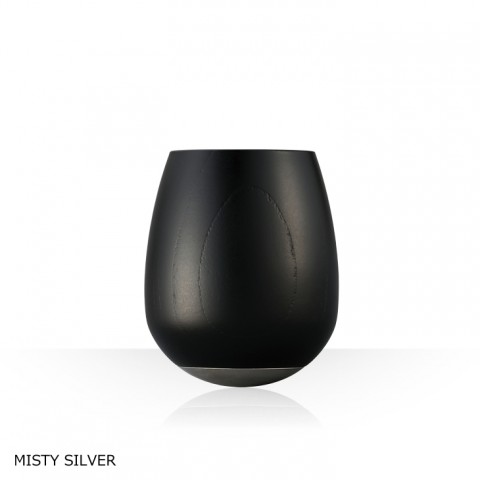 Rounded design. A wooden cup with a soft shape, with metal parts on the bottom that create movement. The size is easy for women to hold, and it is designed to suit any drink, such as soft drinks and wine. The bottom is made of brass, and when you shake it from side to side around the metal base, the wine's flavour opens firmly and the aroma stands out.
FUN! JAPAN EDITORS' VIEW
Lacquered cup made of beautiful wood grain zelkova
A discerning product created by a long-established manufacturer that represents the birthplace of Takaoka copperware, which has a tradition of 400 years.
If you swirl the cup using metal base as the axis, the usual wine aroma will be more delicious!
A luxurious cup that can be used for any drink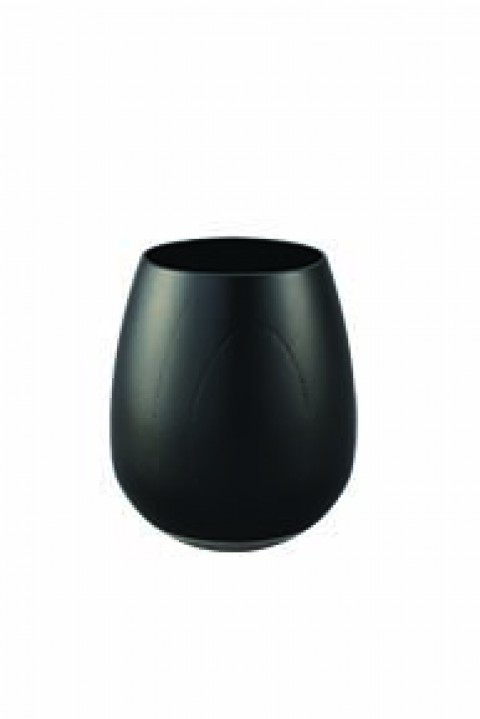 "AKA SWING Kurourushi" is a new product under the "KISEN" brand that pursues the beauty of metal and delivers unique and stylish products. Cup AKA SWING Kurourushi (Black lacquer) is a wooden cup that features a round shape that is elliptical toward the bottom of the cup and a luxurious lacquer coating. A wooden cup with a round shape that becomes oval toward the bottom of the cup and a beautiful grain. It is a product that has been highly evaluated from overseas because it has a sophisticated design that gives you a sense of luxury and the warmth of wood. Recently, free cups that can be used with any type of liquor are popular, but this product also has a round shape of turquoise brass on the bottom, and the weight of the metal makes an enjoyable cup
Wooden cups made from Zelkova that are also used in temples and shrines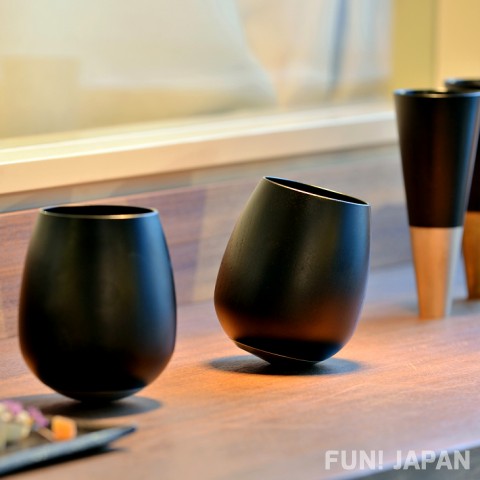 The big feature is the solid wood grain and lacquer painting! The zelkova is carefully shaved, and black lacquer is used to finish it, emphasizing the plump curvaceous beauty. Produces even more luxury and gorgeousness. Zelkova has a beautiful grain and is a hard material that is resistant to friction. It has been used in various buildings since ancient times as a representative of Japanese high-class wood. The zelkova, which has been favorably used for the main pillars of shrines and temples, castles and castle gates, is finished with a round and soft curvaceous beauty only with Japanese manufacturing technology.
You can drink your usual wine more fragrant and delicious

The best feature of the cup is that it can be swirled around the brass base. Normally, the wine poured from a freshly opened bottle is closed (flavour does not come out), and the aroma opens up when it comes into contact with the air over time. The swaying Cup AKA SWING Kurourushi firmly opens the scent of wine and makes the time with your loved ones fun. How about a slightly fashionable gift that will surprise wine lovers?
Product Information
Size: Diameter about 9.1 cm x Height about 11 cm
Capacity: Approximately 315 ml (full capacity)
Weight: 390g
Material: Zelkova, brass
※Each individual item may differ from the pictures above. The design or specifications may change.
※Due to each item being made by hand, there is a chance that there may be some imperfections in the final product. This should not affect the use of the product, and we ask for your understanding prior to making a purchase.
※There may be events in which due to shipping status, stock of material, and other situations regarding production that shipment takes longer than usual.
※There may be a difference in color due to the computer's monitor.
※After product arrival, returns and refunds will only be entertained in the event that the item has a defect on arrival that affects functionality.
※If the number of orders is much more than the prediction, the delivery may be delayed, or the orders exceeded may be canceled.
Estimated delivery date
We will ship items by the sequential order from the end of the month following the month of purchase.
However, if there are many orders, additional production will be required and shipping may be delayed.
What is the response time for inquiries?
We accept inquiries by e-mail 24 hours a day, 365 days a year, but we will respond within business days (10 to 17 o'clock on weekdays in Japan time). In the case of no-business days such as weekends, holidays, etc., it will be handled on the next business day. Thank you for your understanding.