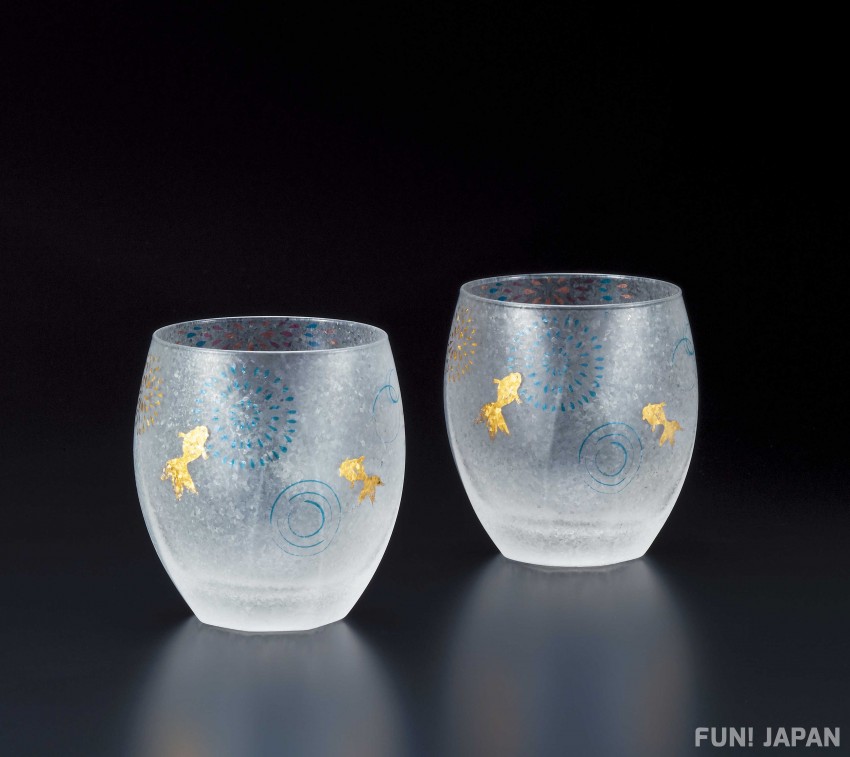 A pair of glasses set with a modern and cool design with a golden pattern on the surface. This is a new work of The Premium Nippon Taste series, which is an imitation of ancient Japanese culture and design on glassware using modern technology and methods. The boldly drawn fireworks and goldfish design centered on the mouthpiece is a very Japanese design. It is a Made in Japan product not only for home use, but also a perfect gift for friends and family.
FUN! JAPAN EDITORS' VIEW
A Japanese design that expresses the changing seasons from summer to autumn
Fireworks and goldfish come out vividly when you add a drink!
Tableware brand of "Ishizuka Glass Co., Ltd.", a pioneer of glass products celebrating its 200th anniversary
Japanese summer tradition, fireworks and goldfish design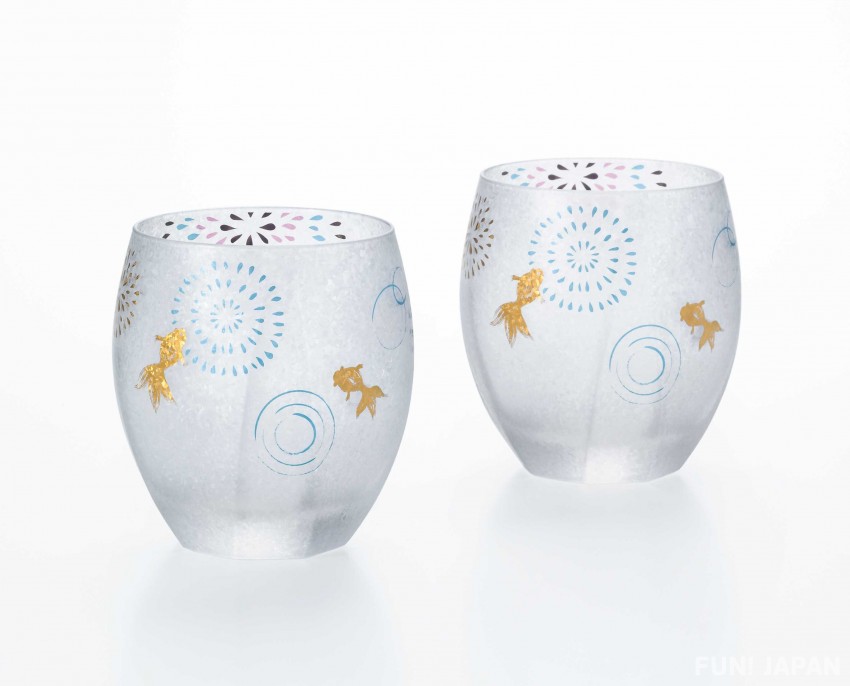 The "The Premium Nippon Taste" series was born out of the desire to let people overseas know the beauty of Japan's four seasons through glasses.
The design of this glass is "fireworks" and "goldfish". The fireworks reflected on the surface of the water where the goldfish swim and the water crests that overlap there are expressed, and the design is reminiscent of the scene of a summer night in Japan, so it is also recommended as a gift!
Whiskey glass with a sparkling sparkle and a cool design
The Premium Nippon Taste Fireworks Whiskey Glass is a glass that uses modern technology and techniques to capture the ancient Japanese culture and seasonal designs. The surface is characterized by a special treatment called "sleet finish", which is attractive for its glittering shine and cool atmosphere.
A tableware brand from a pioneering manufacturer of glass products that is celebrating its 200th anniversary
Ishizuka Glass is a glass manufacturer founded in 1819 in Dota, Kani City, Gifu Prefecture. At the time of its founding, the company worked on vidro glass work, and since then the company has manufactured various types of glass and use our advanced glass processing technology to enter the tableware and bottle business. In 1961, the brand "ADERIA" was born with the concept of "always abundant in the immediate vicinity." Among them, the "The Premium Nippon Taste" series is a series that focuses on Japanese-esque. It is popular because it expresses the ancient Japanese culture and the beauty of the four seasons with high glass processing technology.
Product Information
Size:

[Main body] Maximum diameter 88mm Mouthpiece diameter 75mm x Height 92mm
[Box] Width 180mm x Height 103mm x Depth 89mm

Capacity: 345 ml
Material: Glass
Specifications: Set of 2 glasses
Others: In a vanity case
Made in Japan
Made by Ishizuka Glass Co., Ltd.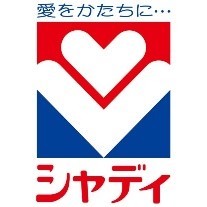 *Timing and amount of production lots may vary by product. Final product may differ partially in design from what is shown.
*Since all products are handmade, products may vary and have some differences from what is shown. All products are made new and are unused, but please understand before placing an order.
* Delays to shipping times may occur depending on the order status, the supply of materials, manufacturing process, etc.
* Depending on the monitor settings, the colors actual products may appear differently.
*After a product arrives, returns and refunds will only be accepted if the product is defective upon arrival.
*If the number of orders is much more than the prediction, delivery may be delayed, or the orders exceeded may be cancelled.
Estimated delivery date
We will ship items by the sequential order from the end of the month following the month of purchase.
However, if there are many orders, additional production will be required and shipping may be delayed.
What is the response time for inquiries?
We accept inquiries by e-mail 24 hours a day, 365 days a year, but we will respond within business days (10 to 17 o'clock on weekdays in Japan time). In the case of no-business days such as weekends, holidays, etc., it will be handled on the next business day. Thank you for your understanding.
Fit my taste!
I really like this pattern. I would like to have a whole set of all this pattern drinkware ~