No Nose Pad Sunglasses - NJ 8000 Type (3 colours) 0205-03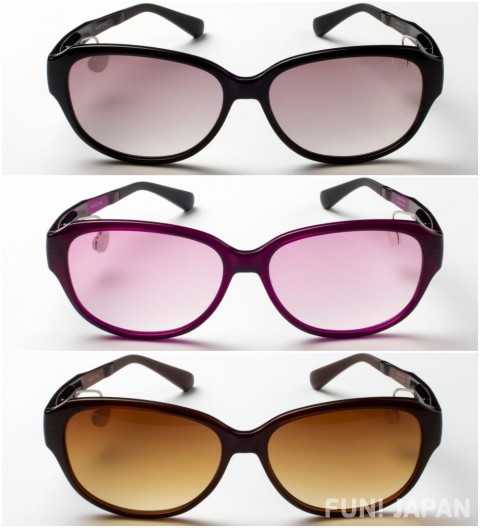 If you're someone that wears glasses, have your glasses you're wearing ever had the position of the nose pads move a little, causing your glasses to fall down a little making you look similar to a grandma or grandad? In this article, we're going to be looking at and introducing a pair of sunglasses that don't have pads on the section for your nose, but instead on the sides. This causes no marks on your nose afterward and allows you to wear your glasses without worry.
FUN! JAPAN EDITORS' VIEW
Thanks to no marks being left by the nose pads, my makeup doesn't spoil after wearing them for a prolonged period of time.

Supporting the glasses via your cheekbones instead of your nose feels a lot better, and is nowhere near as tiring!
Adjusting the frame to your personal needs is very easy.
A Frame that Feels Good - Eliminating the Worries of Wearing Glasses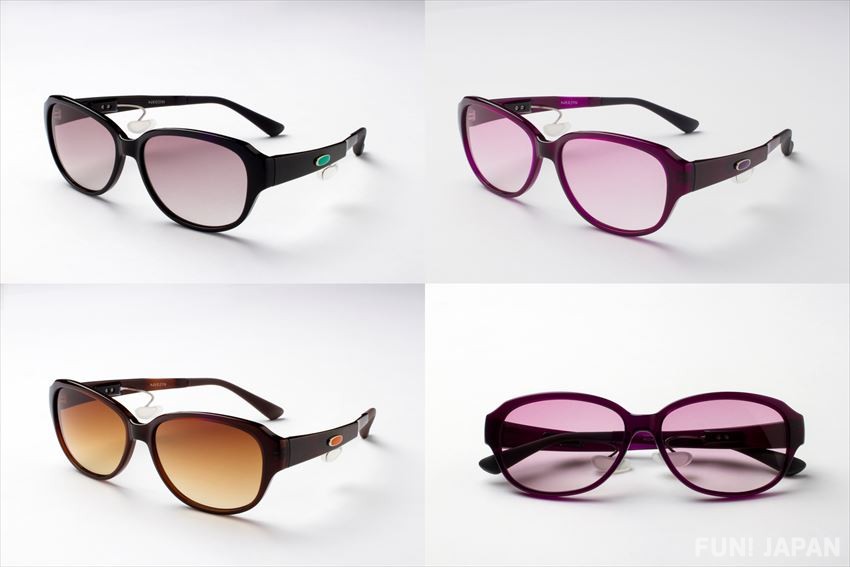 There are 3 colors available within the NJ8000 series sunglasses, BLACK, PURPLE, and BROWN. The frame of these sunglasses is different from that of sunglasses you've seen up until now, it is supported via your cheekbones instead of your nose! There is much less stress when letting the glasses rest on your larger cheekbones in comparison to your smaller nose bones, they feel much lighter, and there's less discomfort of resting them on your ears. The side of the pads themselves are slightly larger than most glasses, making the glasses much harder to slip and fall, lowering the stress of needing to correct your glasses every now and again. These pads leave no marks on your face meaning there's no need to worry about your makeup spoiling, giving your face a constant feeling of freshness and cleanliness, they even help prevent spots or blemishes on your nose! Thanks to there not being a nose pad, looking at the sunglasses from the front gives them a clean and modern look.

Easily Adjusted - Do-it-yourself Style, Anytime, Anywhere

The glasses are supported at 4 different locations on your face, being both your ears and either side of your cheekbones. If you feel they're a little slack when using them, through tightening the side pads just slightly, you can easily adjust the feel of the glasses yourself. This means that you can do activities such as studying and work without worrying about your glasses falling down, helping with overall concentration.
Bridge Corporation has Created the World's First No Nose Pad Glasses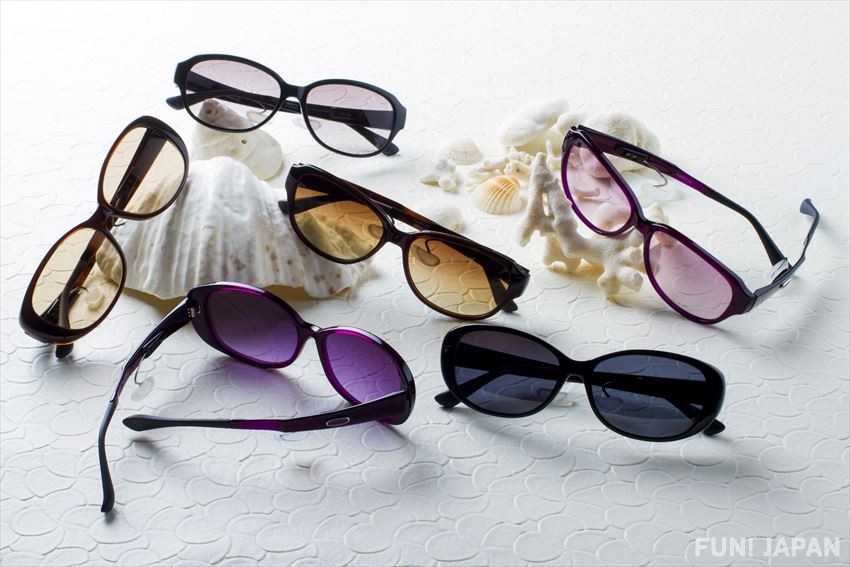 bridge corporation was established in the year 1992, in 2009 they created their first pair of glasses that didn't have a nose pad known as "NEOJIN", which won an award at one of Japan's largest international glasses conventions "IOFT". After that, they began manufacturing more and more glasses that didn't have nose pads such as sunglasses and sports glasses. As of right now, they have over 300 different types of unique glasses.
Product Information
NJ8000 Sunglasses(BLACK)

Lens Color:Light Gray half
Visible Light Transmission:36%
UV Cut Percentage:Over 99%
Frame Material:Super Elastic Resin
Included Items:Case & Cloth
Made in Japan
Manufacturer:bridge corporation(c)
NJ8000 Sunglasses(PURPLE)

Lens Color:Light Purple half
Visible Light Transmission:52%
UV Cut Percentage:Over 99%
Frame Material:Super Elastic Resin
Included Items:Case & Cloth
Made in Japan
Manufacturer:bridge corporation(c)
NJ8000 Sunglasses(BROWN)

Lens Color:Brown Half
Visible Light Transmission:15%
UV Cut Percentage:Over 99%
Frame Material:Super Elastic Resin
Included Items:Case & Cloth
Made in Japan
Manufacturer:bridge corporation(c)
*Timing and amount of production lots may vary by product. The final product may differ partially in design from what is shown.
*Since all products are handmade, products may vary and have some differences from what is shown. All products are made new and are unused, but please understand before placing an order.
*Delays to shipping times may occur depending on the order status, the supply of materials, manufacturing process, etc.
*Depending on your monitor's settings, the color(s) of the actual product(s) may appear differently.
*Returns and refunds will only be accepted if the product is defective upon arrival.
*If the number of orders is much more than predicted, the delivery may be delayed, or the orders exceeded may be canceled.
Estimated delivery date
We will ship items by the sequential order from the end of the month following the month of purchase.
However, if there are many orders, additional production will be required and shipping may be delayed.

What is the response time for inquiries?
We accept inquiries by e-mail 24 hours a day, 365 days a year, but we will respond within business days (10 to 17 o'clock on weekdays in Japan time). In the case of no-business days such as weekends, holidays, etc., it will be handled on the next business day. Thank you for your understanding.