Mentsuna Kankan (Set of 5) 1109-45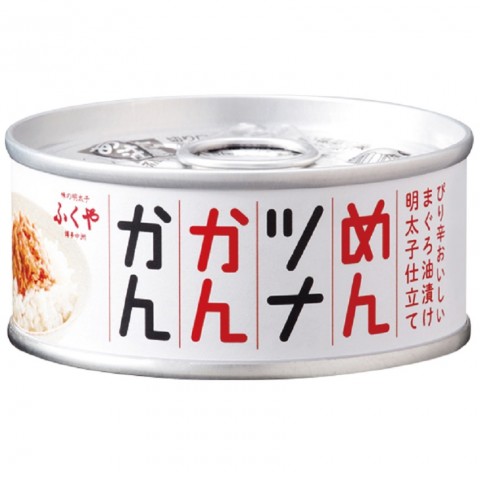 The Introduction of Mentsuna Kankan
It has a tasty spiciness that is blended with the pickling liquid of ""Aji no Mentaiko Regular"" and is finished with a modest oil. The protagonist tuna uses flaky Japan albacore tuna. The beautiful white meat is called ""white meat"" and is the highest quality ingredient in canned food because it is soft and palatable.

The Product Information of  Mentsuna Kankan
Producing area: Fukuoka Prefecture



Manufacturer name: Fukuya
Ingredients: Bincho tuna (Japan), soybean oil, spicy cod roe pickles (salt, pepper, walleye pollock eggs, etc.) / seasonings (amino acids, etc.), antioxidants (VC), niacin, coloring agents (red) 102, yellow 5, red 3), color former (Na nitrite)
Weight: 90g
Size: 75 x 75 x 34 mm
Estimated delivery date
Any time from the middle towards the end of the following month after your purchase is made.
Cautions
* Delays to shipping times may occur depending on the order status, the supply of materials, manufacturing process, etc

* Depending on the monitor settings, the colors actual products may appear differently.
*After a product arrives, returns and refunds will only be accepted if the product is defective upon arrival.
*If the number of orders is much more than the prediction, delivery may be delayed, or the orders exceeded may be cancelled.
What is the response time for inquiries?
We accept inquiries by e-mail 24 hours a day, 365 days a year, but we will respond within business days (10 to 17 o'clock on weekdays in Japan time). In the case of no-business days such as weekends, holidays, etc., it will be handled on the next business day. Thank you for your understanding.
Thank you very much for the purchase and review. :)
おいしい😋
It's very good ! Delicious & convenient
Thank you very much for the purchase and review.
Great to hearing that you like the product. Hope you enjoy it :)