【Utilizing the technique of lacquer craft "Maki-e"】Button Down Pierce -Japan Series- Akafuji / Fuji 1218-09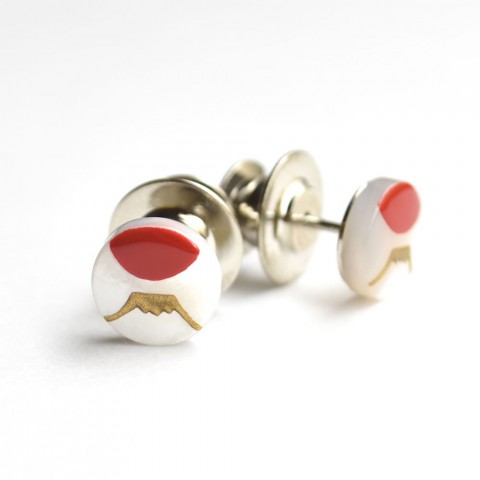 I want to add a little arrangement to my usual shirt to make it more fashionable! In such a case, we recommend the "button down pierce" that you can wear on the button down. "Urushi Art Hariya" introduced this time sells accessories that make use of "Maki-e". "Maki-e" is a technique of drawing a pattern with lacquer on the surface of a vessel using a fine brush, and then sprinkling gold powder from above before the lacquer hardens to decorate it. It is a technique that requires the craftsmen's skill.
Introducing button-down pierce with the motif of Mt. Fuji, which will upgrade your usual clothes.
FUN! JAPAN EDITORS' VIEW
Expressing the elegant Mt. Fuji with a stylish design
Button Down Pierce is a registered trademark, so available only here!
The authentic quality guaranteed by the 450 years history of lacquer ware production area and 200 years history of Maki-e lacquer ware.
Make your collar fashionable! Mt. Fuji motif button down pierce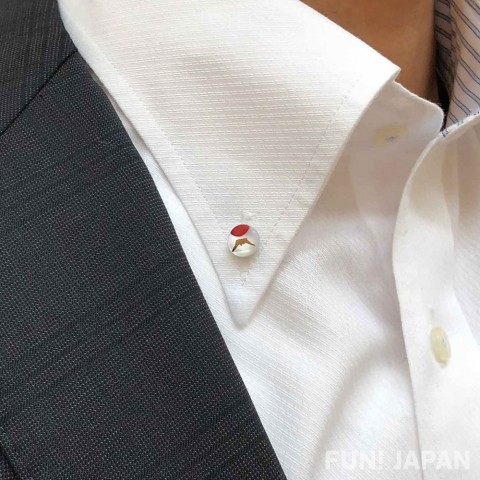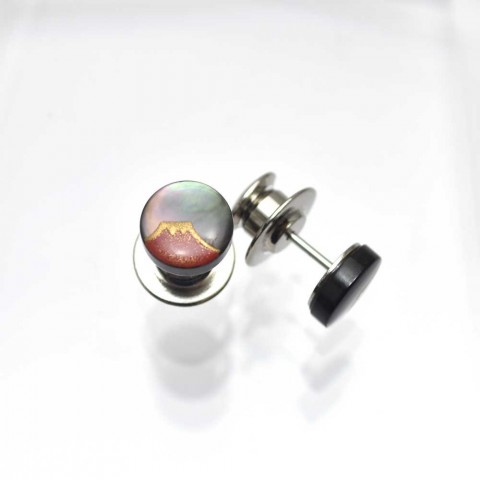 Introducing this time are two types of button-down pierces with patterns. A red semicircle with the motif of Mt. Fuji and the sun, which is said to be auspicious in Japan, is drawn on the glossy pearl oyster shell. There is also a motif of "Red Fuji", a phenomenon in which Mt. Fuji appears to be dyed red mainly from the relationship between clouds and fog and the morning sun, mainly viewable from late summer to early autumn. At first glance, both are small and unobtrusive, but when worn, the neck shines brightly, giving an elegant and fashionable impression.

 Easy to install and remove. Like a pierced earring, it is used by piercing pin to the hole through which the button thread is passed. In addition, the fasteners for the pin brooch are also included in the set, so you can replace the fasteners and attach them to the collar of your suit or use them as a tie tack for your tie. If you add an arrangement to the clothes you always wear, you can improve your fashion.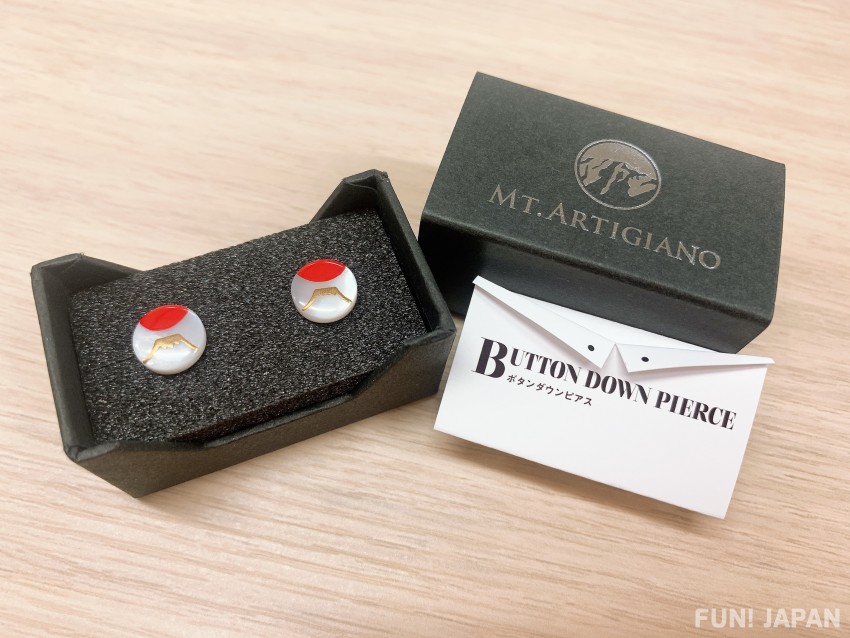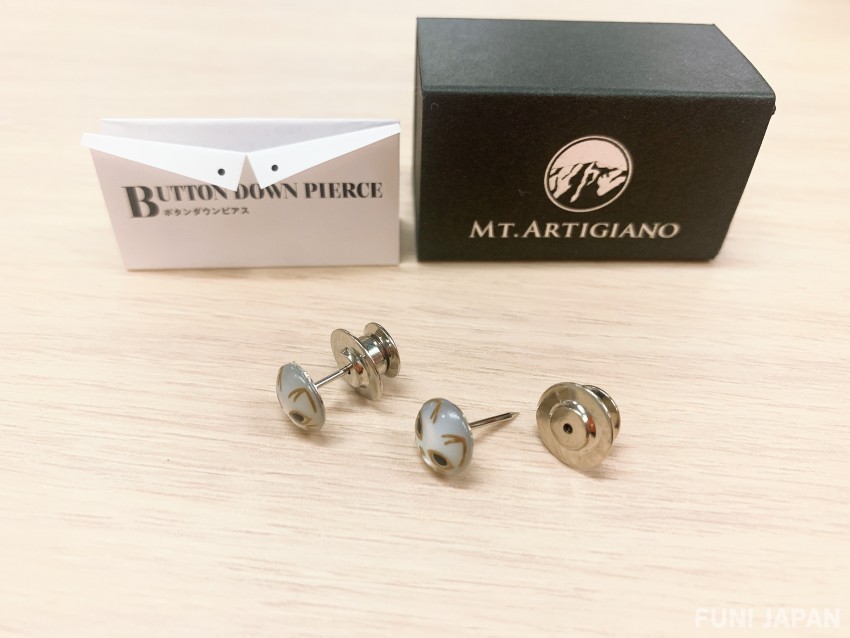 It will be delivered in a chic package with the brand logo "MT. ARTIGIANO" stamped on a black gift box. There is also a shirt-shaped instruction manual.
Handmade one by one by craftsmen who have been involved in lacquer art for a long time
"Urushi Art Hariya" was established in 1981 as a Maki-e lacquer work studio at Yamanaka Onsen in Ishikawa Prefecture. We are making pioneering efforts such as making accessories from Maki-e lacquer work and Maki-e lacquer work for new materials, because we want people to feel closer to Japan's unique Maki-e lacquer work. Five craftsmen who have been involved in lacquer art for a long time are handmade one by one to make the world's highest level Maki-e lacquer accessories.
Product Information
Button Down Pierce -Japan Series- Akafuji / Fuji
Size: Top: Diameter 9mm x Thickness 2mm
Weight: Approximately 2g
Material: Gold-lip pearl oyster's shell, lacquer, gold powder, metal fittings (brass plated with rhodium)
Made in Japan
Made by Urushi Art Hariya
*Timing and amount of production lots may vary by product. Final product may differ partially in design from what is shown.
*Since all products are handmade, products may vary and have some differences from what is shown. All products are made new and are unused, but please understand before placing an order.
* Delays to shipping times may occur depending on the order status, the supply of materials, manufacturing process, etc.
* Depending on the monitor settings, the colors actual products may appear differently.
*After a product arrives, returns and refunds will only be accepted if the product is defective upon arrival.
*If the number of orders is much more than the prediction, delivery may be delayed, or the orders exceeded may be cancelled.
Estimated delivery date
We will ship items by the sequential order from the end of the month following the month of purchase.
However, if there are many orders, additional production will be required and shipping may be delayed.
What is the response time for inquiries?
We accept inquiries by e-mail 24 hours a day, 365 days a year, but we will respond within business days (10 to 17 o'clock on weekdays in Japan time). In the case of no-business days such as weekends, holidays, etc., it will be handled on the next business day. Thank you for your understanding.