【Japan limited item】Japanese Canned Food Gift Box 1109-03
※A supply-limited campaign is currently being held. The product in this campaign will be shipped a little earlier than usual.
※Click here>> to purchase this products with the applicable campaign.
※Please note that the campaign is limited in quantity and may end without advanced notice.
Japan is an island surrounded by nature, and is a treasure trove of delicious fish and meat. FUN! JAPAN has collaborated with Japan's department stores and created a canned food set filled with tasty treats. The products that have been selected for this set have no additives or preservatives meaning they're 100% natural and safe. You can eat them as-is, or use them in various recipes, there's only a limited amount of this set so get your hands on them quick!
Set Outline
The 5 items listed below will always be found within this set. The remaining 2 items will be recommendations from both FUN! JAPAN and our partnered Japanese department store. We hope you look forward to what we put in!
Lemon Can - Hokkaido Scallop
Lemon Can - Hiroshima Oyster
Crab Miso - Kami Crab (red snow crab)
Righteye flounder
Water Boiled Kinka Mackerel
Another 2 items.
For more details and an introduction to why this gift box was created and with what concept, check out the "Story Page".
Recommended Methods of Eating
All of these canned products are great to open and eat as-is, but they're also amazing if you put them into a microwaveable bowl or plate and lightly heat them up.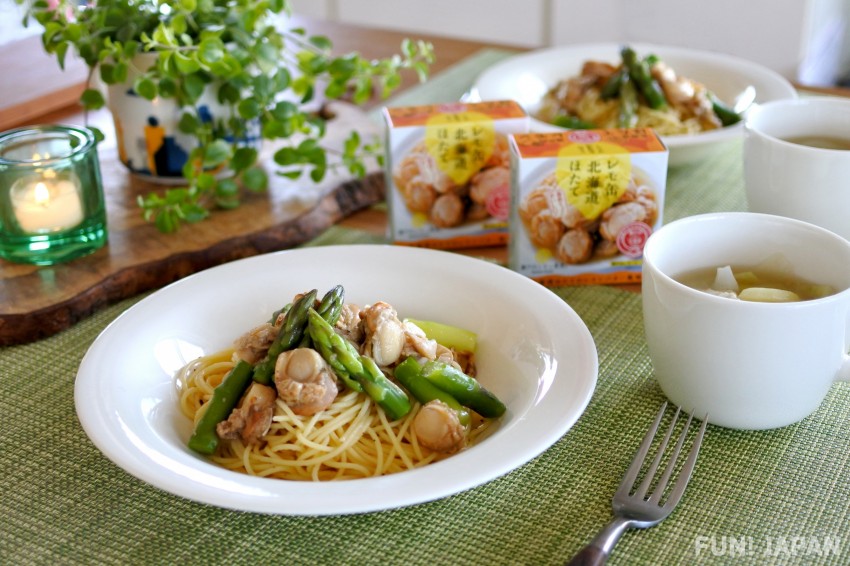 Our most recommended dish to use the "Lemon Can - Hokkaido Scallop" has to be pasta! These scallops have a buttery smell, put with some asparagus and you've got yourself an amazingly delicious dish.
For the Garlic Oil Fried Mackerel, heat it up in some boiling water before moving it to a place then enjoy! Dip a baguette in some olive oil before eating the mackerel for a great combination of flavours. You can also add some garlic and mushrooms fried in olive oil if that's something you feel you would enjoy.
Product Details
There are 5 fixed products in one box. 2 more products will be added depending on the season.
Lemon Can - Hiroshima Oyster/40g

Oyster(Hiroshima)、Olive Oil、Salted Lemon(Lemon Peel, Lemon Juice, Table Salt)、Lemon Juice、Rapeseed Oil、Table Salt
Lemon Can - Hokkaido Scallop/40g
Scallop(Hokkaido)、Salted Lemon(Lemon Peel, Lemon Juice, Table Salt)、Edible Flavour Oil、Scallop Extract、Lemon Juice、Rapeseed Oil、Table Salt、Spices、Butter、(Contains milk and soya beans)
Crab Miso - Kami Crab (red snow crab)/70g
Red Snow Crab
Garlic Oil Fried Mackerel/70g
Mackerel(Domestic)、Olive Oil、Sugar、Garlic、Soy Sauce、Chicken Bouillon Powder、Startch、Cayenne Pepper、White Pepper、(Contains wheat, mackerel, soya beans, and chicken)
Righteye flounder/120g
Greenland halibut(Russia)、Soy Sauce、Sugar、Ginger、Mirin、Table Salt、Vinegar、(Contains wheat, soy beans)
Minamisanriku's Soy Sauce Boiled Silver Salmon/90g
Silver Salmon(Miyagi Prefecture)、Sugar、Soy Sauce(Contains wheat, soy beans)、 Fermented Seasoning、Ginger、Table Salt
Boiled Kanehana Mackerel/110g
Mackerel(Ishinomaki Port)、Table Salt
Domestic Olive Oil Canned Mackerel/170g(Contents Weight)
Mackerel(Domestic)、Olive Oil、Table Salt、Alcohol、Vegetable Extract/seasoning(Amino Acid)
Estimated delivery date
Any time from the middle towards the end of the following month after your purchase is made.
---
"Japan Department Stores Shokuhinkan" which can be found in Tokyo's Akihabara has a wide range of delicious foods collected from various locations across Japan. One of this store's most popular products is its "canned food" section. FUN! JAPAN staff have worked together with the shoppers here to create an amazing canned food gift box.
Why We Decided on "Canned Food"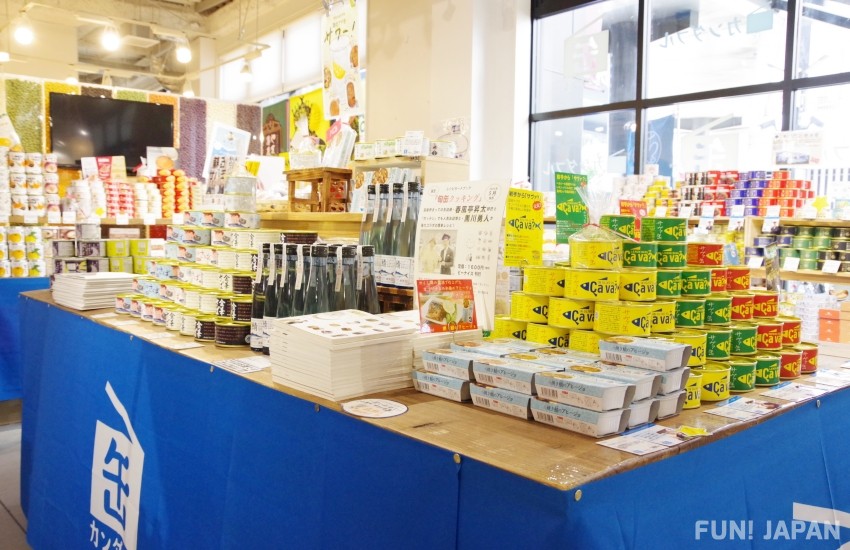 Japan is a treasure trove of food surrounded by the sea. The fish and meat you can eat here is something special. We would love for people to be able to eat Japanese food even though they can't currently visit in person. This is where the FUN! JAPAN HYAKKA team decided to focus on canned foods. Canned foods have a long shelf life and are able to be shipped abroad. Furthermore, the amount you get for the price you pay is usually a really good deal, meaning we could put lots of variation into this gift box.
FUN! JAPAN HYAKKA's Canned Food Gift Box is Safe and Reliable!
The one thing the FUN! JAPAN HYAKKA team focused the most on was safety. In typical canned foods, a lot of additives are used. However, the canned foods at Shokuhinkan are carefully selected, and have a list of ingredients that is simple and easy to understand. Anyone from small children to grandparents can eat these canned foods without worry.
Canned Foods Chosen by Pros! 100 Points for Flavour!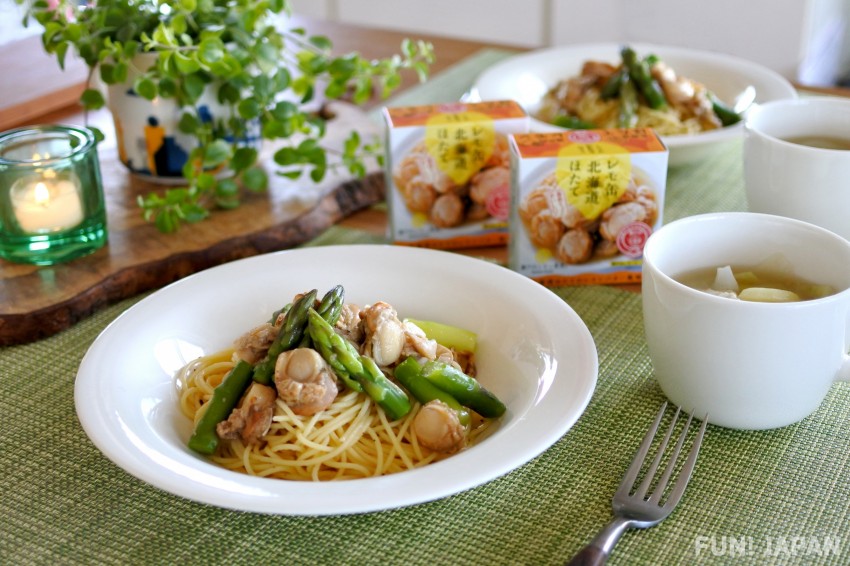 We're sure there's a lot of you out there that are maybe thinking "canned foods aren't that tasty…" However, canned foods are both airtight and watertight, you could almost call it a vacuum which means neither nutrition nor taste is lost. Furthermore, we have had the shoppers pick out Japan's most delicious canned foods only, we have full confidence you'll love this selection.
FUN! JAPAN HYAKKA's Original Canned Food Gift Box Guarantee
①Lemon Can - Hokkaido Scallop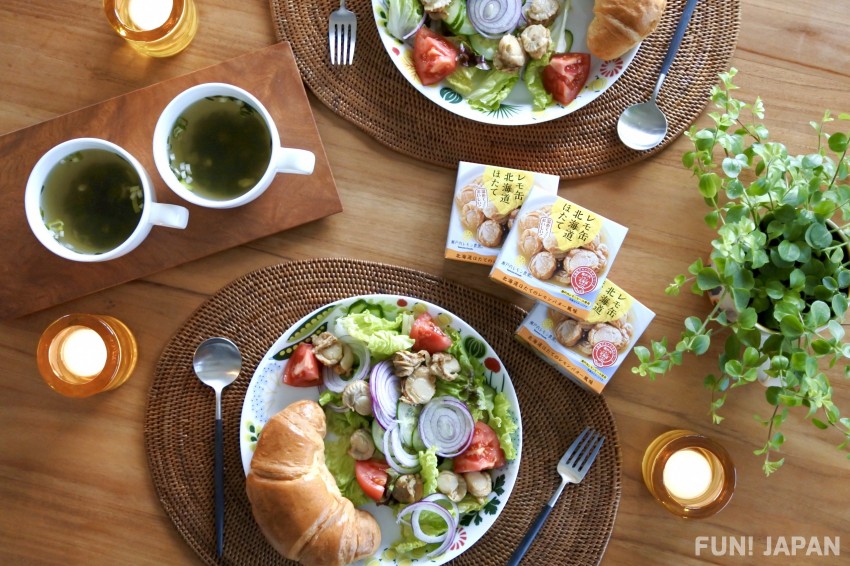 A collaboration of delicious Hokkaido lemons & scallops. They are lightly seasoned meaning you can eat them as is, or use them in a wide range of different dishes. One of the more recommended dishes is mixing them with cold pasta!
②Lemon Can - Hiroshima Oyster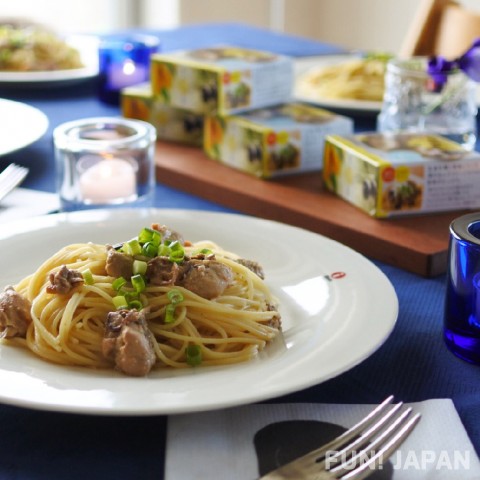 Hiroshima Prefecture is Japan's leading location for the production of lemons. If we take a look at seafood, Hiroshima is well known for its oysters. This canned product is a combination of those 2 products. The mix of the refreshing and acidic lemons alongside the strong-scented oysters is a great collaboration.
③Additive-free Crab Miso - Kami Crab (red snow crab)
Hyogo Prefecture's Kami district is a famous hot springs area, and is famous in Kansai for its red snow crab which are fished up on the nearby fishing harbour. Each individual piece of this flavoursome and refreshing crab miso is additive free.
④Garlic Oil Fried Mackerel
This canned food uses mackerel from Chiba Prefecture's Choshi fishing port. Chub mackerel that has been fished up from autumn towards winter typically has a lot of fat making it delicious! The base to the oil in this product include garlic, pepper, and the delicately scented extra virgin olive oil.
⑤Righteye flounder
This canned food is the meat and bone from the fin of a righteye flounder that has been boiled to perfection. It goes well with a sweet and sour soy sauce and rice! It doesn't require any preparation meaning you can open it and eat it right away. It has a lot of collagen which is great for the skin.
There are many other products carefully selected by the FUN! JAPAN HYAKKA members. We hope you look forward to seeing them once your package arrives.
A set of 7 canned foods including Hokkaido scallops and Hiroshima Oysters for 5500 JPY
The FUN! JAPAN HYAKKA Canned Food Gift Box is available for a great price of just 5500 JPY. It has a wide variety of popular Japanese seafood including Hokkaido scallops, Hiroshima oysters, popular items from sushi dishes, and much more. We want you to pay special attention to the ever-popular Hokkaido scallops and crab miso, which actually puts us over budget for this pack, but we want to ensure that the people who can't come to Japan right now can feel as close to Japan as possible from their homes. There's a high chance these luxury items won't be in the upcoming sets so get your hands on them now or never!