Posture improvement just by sitting on the cushion "jzyss creation" - ISUZABU【1225-09】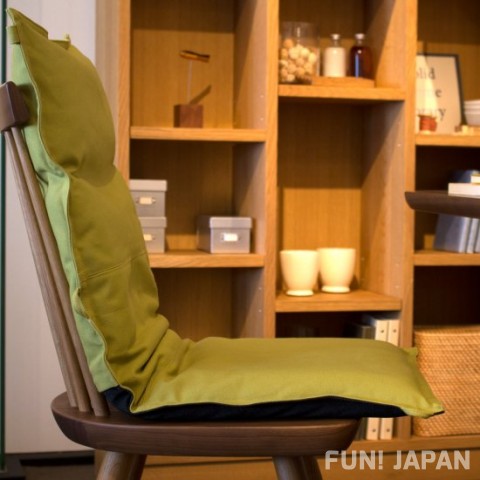 If you sit for a long time and work on your computer, do you sometimes have a bad posture and hurt your lower back and shoulders? To prevent such a situation, we recommend "ISUZABU" of jzyss creation. Just by sitting on "ISUZABU", which was developed with a structure that supports the spine and pelvis based on the advice of skeletal experts, you can maintain a good posture and not get tired even if you sit for a long time! In this article, we will introduce the gestures, materials, and craftsmanship.
FUN! JAPAN EDITORS' VIEW
The structure supports the spine and pelvis, so you can improve your posture just by sitting on it
The backrest can be bent so that the sitting posture can be changed depending on the scene
Uses a simple and sturdy Kurashiki canvas and can be used for a long time
Cushion for chairs that makes it easier to maintain a stable and good posture
 The hot topic "ISUZABU" published in many magazines such as the Nikkei newspaper was developed for people who have trouble sitting for a long time, working from home, and people who want to improve their at-home time. It is a cushion for chairs that adjusts the posture and skeleton.
"jzyss creation" ISUZABU can be used in two ways. Normally, it is said that the correct posture is that the spine is curved in an S shape and the pelvis is upright. When ISUZABU is used by bending the backrest into lower back supporting cushion, it keeps the back muscles in an S shape, supports the lumbar spine, and creates a natural lordosis curve. Rather than maintaining a good posture on your own, it will lead you to the ideal posture without overdoing it. On the other hand, if you extend the backrest of ISUZABU, it will be about 45 cm long, and it will gently support your back as a whole, so you can relax with peace of mind.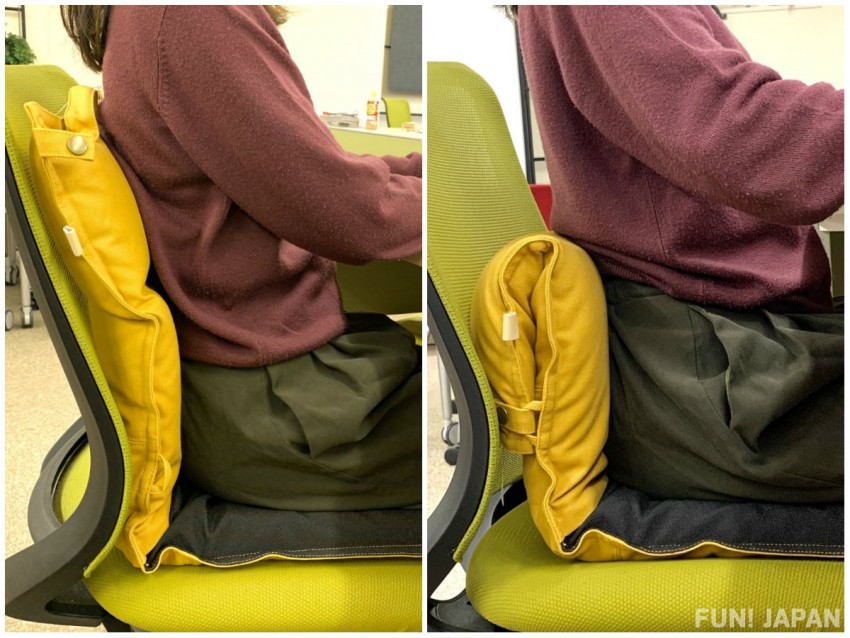 In addition, the ischium part of the cushon is flat so that it can easily touch the seat surface. Due to this flat seating surface and moderate softness, the two points of the ischium bone do not sink too much when sitting, and you can sit in the correct posture with the pelvis upright.
There are 6 colors: BLUE, RED, YELLOW, GREEN, BROWN, GRAY. The cover can be washed!
Uses Kurashiki canvas which is called first-class canvas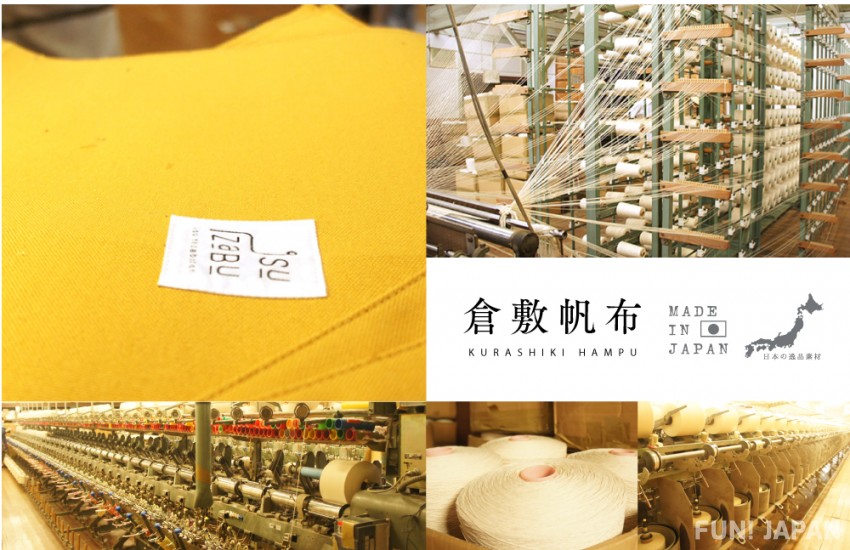 The cover of ISUZABU uses Kurashiki canvas, which is made in Japan and is durable. Kurashiki canvas accounts for 70% of the canvas production in Japan and is called first-class canvas. With the advanced yarn twisting technology that has been passed down for more than 130 years, several 100% cotton yarns are twisted together to use yarn that has both suppleness and strength.
Relying on the experience and sense of craftsmen, weaving is done little by little on a shuttle loom, which is now rarely used due to inefficiency. A single loom can weave about 50 to 70 meters a day. By weaving carefully and slowly, the unique taste and texture of Kurashiki canvas is created in the fabric. The surface of Kurashiki canvas, which is resistant to friction, is water-repellent and resistant to dirt and damage. You can use it for a long time with special attachment.
Craftsmen carefully make each one at a workshop in Okayama prefecture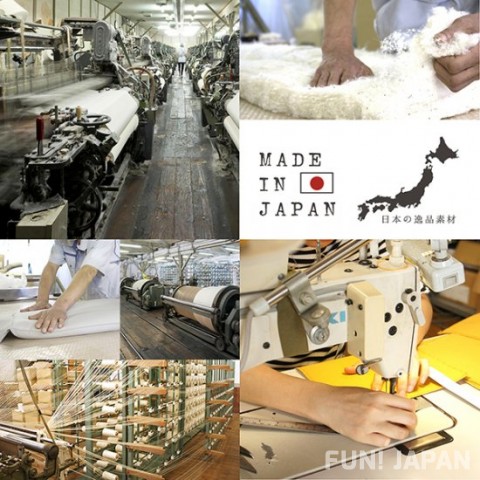 The "ISUZABU" introduced this time is manufactured and sold by "jzyss creation" in Akaiwa City, Okayama Prefecture. A manufacturer that has manufactured more than 1.2 million pillows in total, each one is carefully handmade by skilled staff. After packing connton stuffing with a special machine, manually adjusting the bias, making the shape uniform, carefully inspecting the product, and then packing it with a special bookmark that describes how to use it… we make them wholeheartedly. It is a gem that makes you feel that "we want you to use comfortable pillows because you spend one third of the day in bed."
Product Information
"jzyss creation" ISUZABU (BLUE, RED, YELLOW, GREEN, BROWN, GREY)
Size: Approximately 90x44 (cm)
Material:

Body: 100% cotton, bottom switching part 100% polyester
Side: 80% polyester 20% cotton, stuffing 80% cotton 20% polyester, cotton pile 100% polyester

Made in Japan
Made by jzyss creation Co., Ltd.
*Timing and amount of production lots may vary by product. Final product may differ partially in design from what is shown.
*Since all products are handmade, products may vary and have some differences from what is shown. All products are made new and are unused, but please understand before placing an order.
* Delays to shipping times may occur depending on the order status, the supply of materials, manufacturing process, etc.
* Depending on the monitor settings, the colors actual products may appear differently.
*After a product arrives, returns and refunds will only be accepted if the product is defective upon arrival.
*If the number of orders is much more than the prediction, delivery may be delayed, or the orders exceeded may be cancelled.
Estimated delivery date
We will ship items by the sequential order from the end of the month following the month of purchase.
However, if there are many orders, additional production will be required and shipping may be delayed.