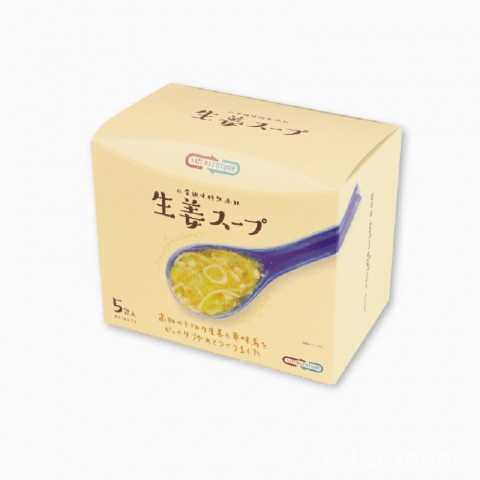 The Introduction of NATURE FUTURe Ginger Soup with 5 Meals
Shredded and paste. Two types of gingers are used from Kochi prefecture, Japan white onion, and Kyushu brand chicken ""Kamitori"". By frying these quickly, the aroma and umami are brought out, and the moment you pour hot water, the appetizing aroma spreads. It contains plenty of ginger, so it can be used as a measure against cold weather. A delicious ginger soup with thick soup and ingredients intertwined.

The Product Information of NATURE FUTURe Ginger Soup with 5 Meals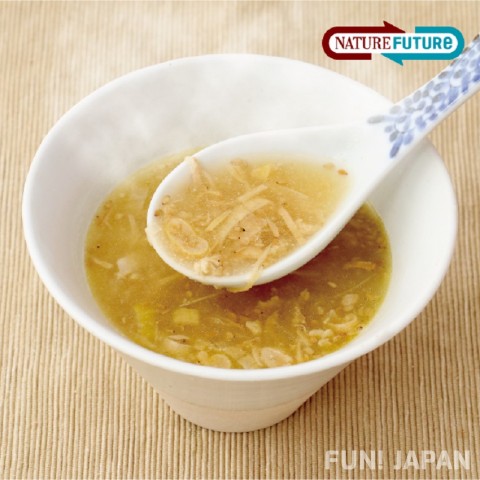 Producing area: Hyogo prefecture

Manufacturer name: Cosmos Foods
Ingredients: starch decomposition product, ginger paste, chicken extract, vegetable oil, soy sauce, salt, scallop extract, bouillon, sugar, fermented vegetable powder, yeast extract, asari extract, sesame oil, spices, ingredients (chicken (Kyushu), ginger, White onion, sesame) / thickener (guar gum), antioxidant (VE)
Weight: 53g (10.6g x 5 meals)
Estimated delivery date
Any time from the middle towards the end of the following month after your purchase is made.
Cautions
* Delays to shipping times may occur depending on the order status, the supply of materials, manufacturing process, etc

* Depending on the monitor settings, the colors actual products may appear differently.
*After a product arrives, returns and refunds will only be accepted if the product is defective upon arrival.
*If the number of orders is much more than the prediction, delivery may be delayed, or the orders exceeded may be cancelled.