【Long-established Mino Ware Tile Store】 "Nanayosha Suzuki Tile Store" Karen (pierced earrings / clip-on earrings) 1211-08
If you are looking for pierced earrings and earrings that are particular about the materials used, how they are made, and the colors, check out the products from the long-established Mino ware store "Nanayosha Suzuki Tile Store"! Using techniques that have been passed down from generation to generation, the craftsmen handcrafted them with all their thoughts, so each one has a different look and is unique in the world. Just by gently attaching the Made in Japan gem to your ears, you will feel more fashionable.
FUN! JAPAN EDITORS' VIEW
Warm accessories handmade by craftsmen one by one
A long-established store of Mino ware tiles
Also pay attention to the subtle bleeding of the pattern unique to pottery
The color is the original style prepared by the artist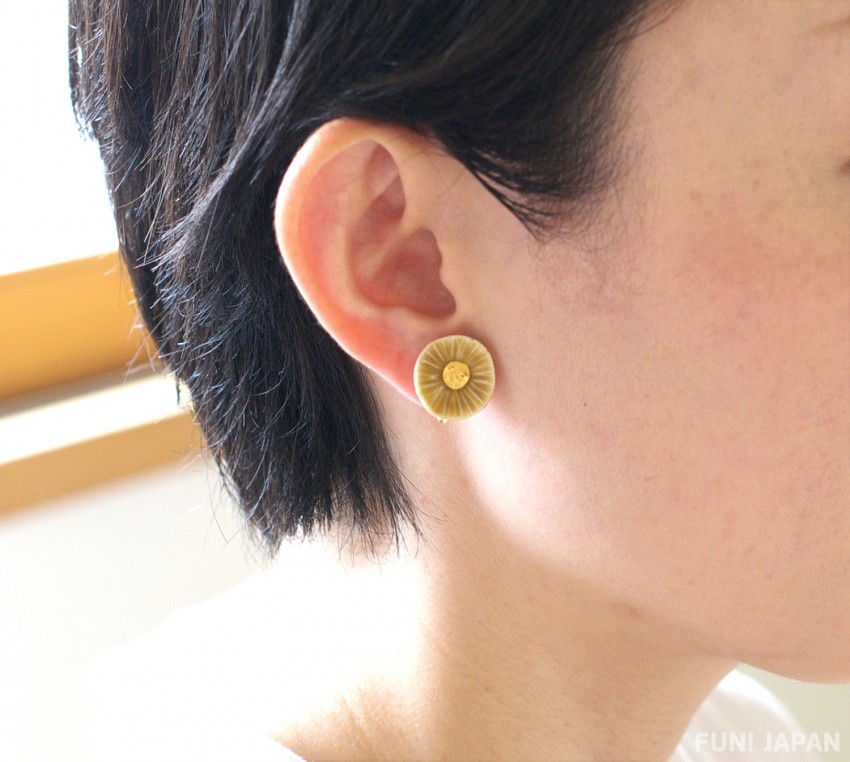 Pierced earrings and clip-on earrings with a delicate and lovely impression like petals. The gold in the middle is one point, and the flowers are vividly complemented. There are four colors, Momo (peach), Ame (candy), Ai (indigo), and Mizu-hai (water-ash), all of which are original colors of the seven kilns prepared by the artist. The gentle color gives a gentle impression. The size is not too small, not too big, and you can wear them in any scene. For decoration, the technique of applying liquid gold on the fired pottery and baking is used.
Accessories that utilize the decoration technology of Mino ware tiles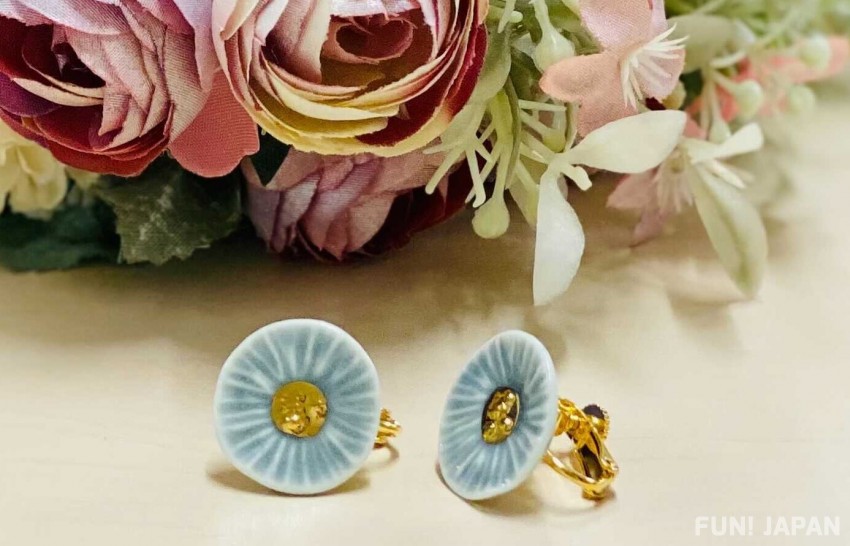 The "Nanayosha Suzuki Tile Store" introduced this time is a long-established store of Mino ware tiles that has continued for three generations, founded in the Mino region of Gifu prefecture in 1949. Mino ware is a general term for ceramics produced in the eastern part of Mino Province (present-day Gifu Prefecture), and is said to have its origins dating back to the Nara period. Mino ware tiles are made into tiles using the Mino ware technique. About 90% of the factories that produce tiles in Japan are in Gifu and Aichi prefectures, and both prefectures are known as ones of the best pottery producing areas. "Nanayosha Suzuki Tile Store" makes use of the Mino ware tile decoration technology cultivated over many years to manufacture and sell accessories that suit the sensibilities of modern people.
Handmade by craftsmen one by one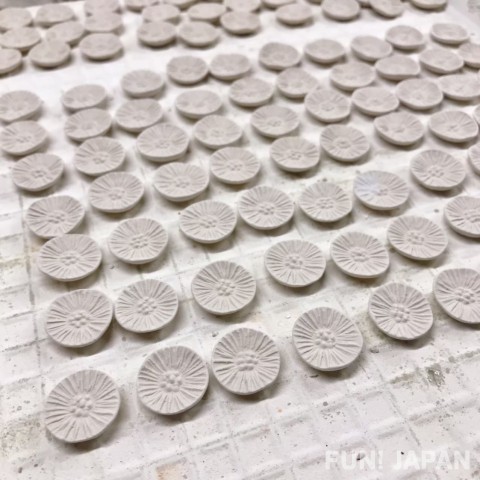 We started manufacturing and selling pottery accessories with the idea that "We want you to feel the colors and textures unique to pottery through accessories. We want you to feel the traditional crafts closer to you." Designed and produced by potter NONOMURA Minami and young potters. It has the following three features.

Thin and light tile clay
Although it is a tile, it is light and comfortable to wear without any discomfort.
All handmade
The craftsmen paint each piece with a brush. Even if the main pattern is the same, the shape and pattern are slightly different, making it a unique item in the world. You can feel the charm that is not ready-made.
The product concept is "cute, natural, new"
An accessory that brings out the sensibility of female designers. It doesn't have a strong presence, but it's sure to catch the eyes of the people around you casually! According to the store's concept of "coloring you with the warmth of pottery. Pottery accessories", you can feel the warmth of the craftsmen and colorfully color your daily life.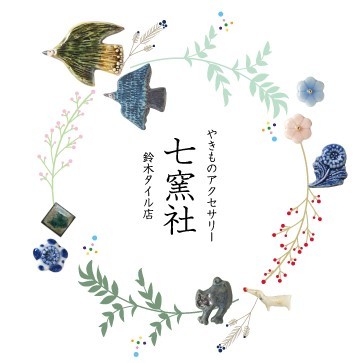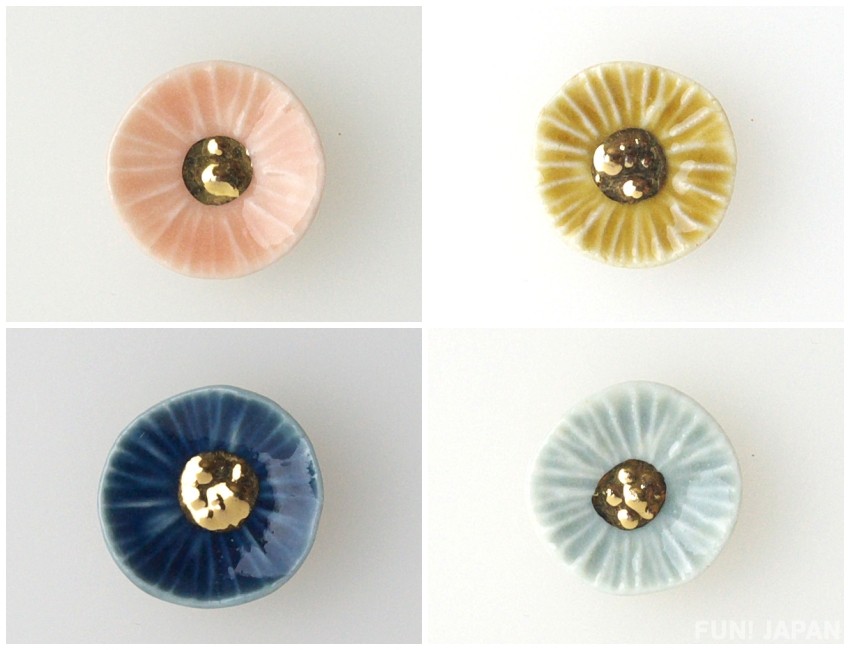 Product Information
Pierced earring

Design: Momo, Ame, Ai, Mizu-hai
Size: W18mm x H18mm x D15mm
Weight: 2g
Material: Main body part - Ceramic / Metal fitting part - Stainless steel
Made in Japan
Made by Nanayosha Suzuki Tile Store

Clip-on earring

Design: Momo, Ame, Ai, Mizu-hai
Size: W18mm x H18mm x D17mm
Weight: 4g
Material: Main body part - Ceramic / Metal fitting part - brass-plated, gold color
Made in Japan
Made by Nanayosha Suzuki Tile Store
*Timing and amount of production lots may vary by product. Final product may differ partially in design from what is shown.
*Since all products are handmade, products may vary and have some differences from what is shown. All products are made new and are unused, but please understand before placing an order.
* Delays to shipping times may occur depending on the order status, the supply of materials, manufacturing process, etc.
* Depending on the monitor settings, the colors actual products may appear differently.
*After a product arrives, returns and refunds will only be accepted if the product is defective upon arrival.
*If the number of orders is much more than the prediction, delivery may be delayed, or the orders exceeded may be cancelled.
Estimated delivery date
We will ship items by the sequential order from the end of the month following the month of purchase.
However, if there are many orders, additional production will be required and shipping may be delayed.