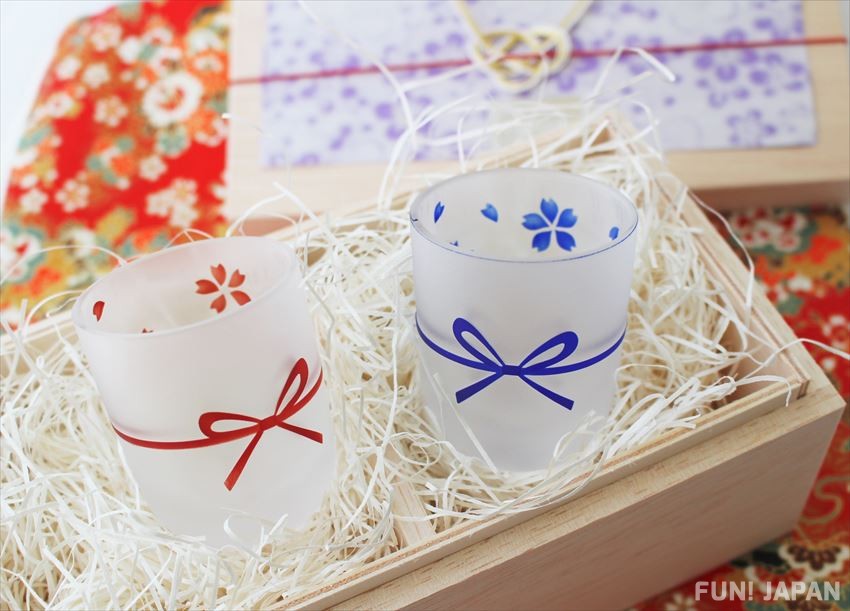 Looking to buy a present with a very Japanese design? Then take a look at this set of Ochoko – Japanese Sake Glasses! The glasses feature a thin Japanese ribbon wrapped around it decorated with beautiful cherry blossoms. While Ochoko are used primary as sake glasses, they can also be used to hold small accessories.
FUN! JAPAN EDITORS' VIEW
With a long history, Edo Kiriko is famous for their souvenirs
The immeasurable value of each single glass made by hand from balls of glass
A gem that represents pure Japanese design
Edo Kiriko - Glasses with Tradition and Prestige. All Produced by Hand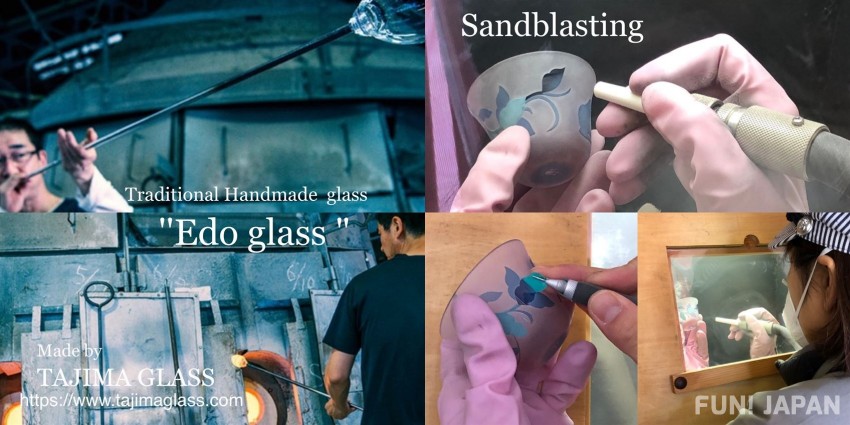 Created with Japan's traditional method of glass blowing, Edo Kiriko glasses are hand crafted one by one. Every step from masking to polishing is carefully done by hand without the use of any chemicals. There are only a few companies that can produce the Edo Kiriko glasses, making them very valuable.
Simple Yet Elegant! Design Emphasizing Japanese style

With a ribbon created based off the Japanese craft of Mizuhiki, the are flower petals that are hidden when seen from the front. The front is simple in design, giving the unique Japanese aesthetic sense of design. Much emphasis is put on the curved design and thinness of the ribbon, and each flower petal is carefully shaped and placed with their honed craft. Because they are all hand made, the cherry blossom petals are positioned differently with each glass.
Enjoy the Transparency of the Glass

Because it's made from glass you can enjoy the brilliant colors for extended use without worrying about the colors fading or peeling off. You can also enjoy a drink in a visually festive manner by adding flower petals or gold dust to your sake.

Basic Specifications
Colors: Outter glass = Azure Blue and Red, Inner glass = Clear
Size: 5cm x 6cm
*The production is entirely handmade, so the colors and motifs shaped and placed on on each item will differ. There may at times also be streaks, bubbles, and off colors to the material. This does not affect the item use, but please be aware before purchasing.
*This product is a on demand product. Regardless of whether the funding goal is reached, the product will be delivered. If the funding goal is reached, all those who have purchased the product will receive a 1000-yen coupon that can be used from their next purchase.
*Timing and amount of production lots may vary by product. Final product may differ partially in design from what is shown.
*Since all products are handmade, products may vary and have some differences from what is shown. All products are made new and are unused, but please understand before placing an order.
* Delays to shipping times may occur depending on the order status, the supply of materials, manufacturing process, etc.
* Depending on the monitor settings, the colors actual products may appear differently.
*After a product arrives, returns and refunds will only be accepted if the product is defective upon arrival.
※If the number of orders is much more t
han the prediction, delivery may be delayed, or the orders exceeded may be cancelled.
Estimated delivery date
We will ship items by the sequential order from the end of the month following the month of purchase.
However, if there are many orders, additional production will be required and shipping may be delayed.